Face your problems head on, they say. Take the bull by the horns.
I had a problem this week. It was a situation that needed to be confronted. I went at it head on. I gave it everything I had. Hell, I even thought it through completely, including possible outcomes.
It blew up in my face, big time.
I was a little shocked. I walked away disappointed. I cried. I couldn't fix it. The only choice I have now is to let it rest.
Then I had to wonder, had I chose to ignore it initially, walk away, not think about it again, would we all be better off?
Instead of grabbing the bull by the horns, how about backing away slowly and quietly?And what happens when you take a step back, let it go and ignore a problem?
Often, it's a disaster. I'll admit that. I'm not recommending you deny major issues in your life.
I've found that for me, sometimes it works out better if I do nothing. If I forget about a problem, push it to the back of my mind and don't give it any space to grow and worry me, it resolves itself.
I have proof.
It's my car. This is either proof of the power of denial or proof that I have a fairy godmother who specializes in mini-van repair.
I think the fairy theory is a little far-fetched.
Yesterday, the heat started working in my car. Not a big deal, right? I mean, cars are supposed to have heat. And brakes.
Yet a few weeks ago I had a problem with both. My brakes were squeaking and the heat wouldn't work, even though the mechanic told us on two different occasions that it was fine.
I pretended that it didn't matter too much. I still had heated seats. That was something. As for the brakes, I let them have a rest. I barely drove for the next four days.
Finally, I got in the car and drove off. The brakes didn't make a sound at all. They've been fine ever since.
Then, through the magic of sticking my head in the sand and denying there was a problem, the heat started working yesterday. It's not just a little warm. It's toasty. Good as new.
I call it the power of denial. It works in mysterious ways.
I'm not the only one who thinks like this. So does Rodrick, from The Dairy of a Wimpy Kid series. When I first saw the movie, I worried that I was like the mom in the story. Then after a few days, I realized that I couldn't stop laughing over Rodrick's rules. They are just so terrible and fun.
I am aware that he is a fictional character, in case you were worried.
One of the rules he lives by is "deny, deny, deny."
I know, it's not the power of positive thinking. I don't care what people say. Sometimes, if you ignore your problems long enough, they actually do go away. The exception in my life seems to involve Jehovah's Witnesses.
They were here this morning, same time as always. My kids know the drill. Hide. I truly mean them no harm.
My mom has a fix for this, but it does not include ignoring them. It goes something like this: Open the door as wide as you can. Scowl. Say "No Thank You," in your strongest, venomous voice. Lean back, use all of your weight to slam the door as hard as you can and shake the entire house so they fear it will fall on them if they don't run away fast.
I love you mom!
I just need a pretty little sign like this: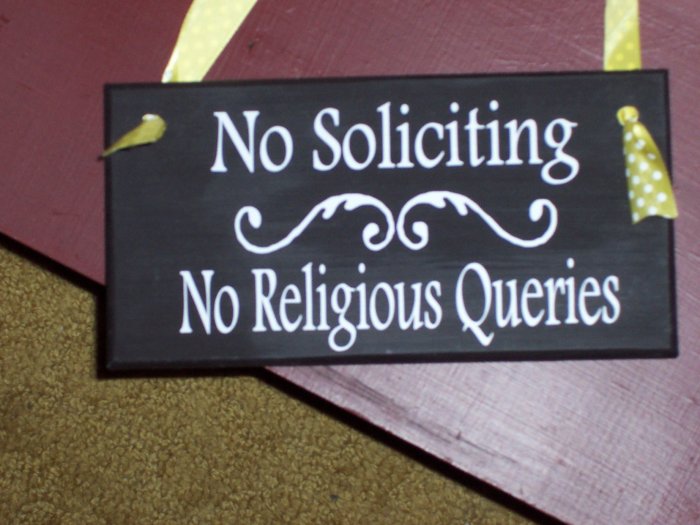 Very polite, right?
I never wander off topic here on this blog, so stop thinking that I do.
If you have never had any success using denial, perhaps you need a little practice. Maybe you need to sharpen up your skills. Watch those who have mastered it. Learn from them.
Right now, I'm testing my theory out on my Dyson vacuum. It can't truly be broken already. It needs a vacation from over use. The Dyson's lack of sucking frustrates me so completely that I want to take outside and beat it with a sledge hammer.
I don't have a sledgehammer. It's sitting in the closet. As soon as it recovers from me trying to slam it in to working right, it will be fine.
I'll let you know how it goes.
Here's Rodrick: