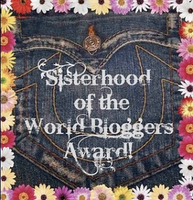 Being a freelance writer and a blogger can be lonely. It's hard work, putting yourself out there daily. It's tough to tell stories honestly without also getting yourself in trouble. And it can feel like you're talking to yourself, about yourself, all the time.
It can make a person sick. How much can a person tolerate of ones self?
Meeting new people through blogging has been an unexpected, yet very welcome reward for my efforts. I've made friends. Some of these friends are just like me and many are completely different. It doesn't matter. We've found common ground.
"Friendship is born at that moment when one person says to another: "What! You too? I thought I was the only one."
C.S. Lewis
Janine, from Confessions of a Mommyaholic makes the internet a better place with her hard work, kindness and loyal support of other bloggers. She recently received the Sisterhood of the World Bloggers Award. No one deserves it more!
She passed the award on to me and I am so honored! In turn, I get to share it with a blogger who makes a difference in my life on a regular basis.
First, I'd like to than the Academy. Wait, I mean I would like to thank all of my loyal readers and my occasional readers. And even the readers who find me annoying, but feel obligated to read anyway. You make me feel special. Wanted. Loved. Adored. Okay, maybe not adored. Can you work on that?

So here are the Rules of the Sisterhood Award:
Thank the blogger who gave it to you. (Thanks again Janine, you are the best!)
Include the logo in your post.
Note 7 things about yourself (because we bloggers can't get enough of ourselves).
Expand the Sisterhood by passing the award onto some other wonderful blogger(s).
Grab the button for your sidebar.
Ah. I missed one.
7 Things about me:
1. I love sesame noodles. Peanuts and garlic do go together on pasta and it's heavenly.
2. I hate curry. HATE. Curry.
3. My idea of luxury is a barn full of horses and the money to pay someone else to clean it, leaving me plenty of time to canter around in fields all day.
4. I only eat ice cream once a year. It must be fresh from the creamery, butter pecan with graham cracker crumbles on top.
5. My pet peeve: close talkers. Give me space, people!
6. My favorite "old" TV show is the British comedy Absolutely Fabulous. I imagine I'll be like Patsy as I age, but I'm probably going to be more like Eddie.
7. I could watch HGTV all day, make huge plans for my house and then do nothing. I still haven't managed to paint over the pen marks on the bathroom wall (compliments of the Princess).
Enough about me.
Let me tell you about the lovely lady I am passing this award on to. Her name is Karen and she's a single homeschooling (yet unschooly) mom of a young teen. I love to read about their joyful life together. She's proof that that teen years don't have to be miserable!
Most of all, Karen has a sweet spirit and a kind heart. It shows in everything she writes. She was one of my first readers and I am so thankful for her support and friendship! Welcome to the Sisterhood Karen!
You can find her at Homeschool Girls. Now go read about her life. Go on!