I'm so excited. I've been chosen to be the Mixologist for the More than Mommies Mixer. It's my job to get the party started!
I love a good virtual party. I don't even have to get out of my fuzzy slippers to have a blast.
Want to come out and play? The mixer is a great way for bloggers to make new connections with other bloggers and for readers to find more awesome blogs to read.
In case you're new around here, I want to help you get to know me – super fast.
25 Things You Should Know About Me:
I'm a Pisces.
It took me years to learn how to spell it right.
I don't eat seafood of any kind because they are my brothers an sisters.
And it tastes fishy.
Except I love Eel, sushi style. I think Eel is a tasty sea monster that probably goes around scaring all my sweet little friends.
I like short walks on the beach. From the car to the water's edge is perfect.
Red wine. Never white. And no Merlot please.
I'm an introvert.
I DO like people. But not all the time.
I'm an idealist.
And super sensitive.
I'm a homeschool mom.
I will use bad language here when appropriate.
I don't wear denim jumpers.
I hate turtlenecks.
I'm a jeans and t-shirt type of girl.
I kind of love letting my kids learn naturally through their interests.
And sometimes I still freak out.
I've been a writer since the 3rd grade when I tried to write a novel.
It still isn't finished.
I procrastinate. Often.
I'm late. Often.
This post was supposed to be published hours ago and the mixer has started without me.
The formatting in this post has gone totally wonky, but I'm publishing it anyway, because no one likes a perfectionist, right?
It's driving me crazy. I need it to be perfect.
Want to join in the fun?
First, grab a button for your blog: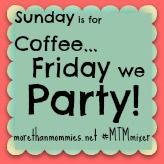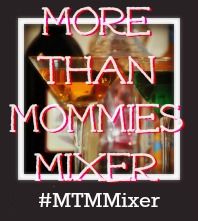 Here are the "rules." Typically, I'm not are rule follower but these makes good sense. Go ahead…
Don't make us post bouncers a the door.
Follow your Hostesses – Christine and Janene from More Than Mommies

Follow our Co-Hostess – Meredith at Mom of the Year

Follow the Life of The Party – Haley at Team Ibraham is o

ur lucky tweeter in the spot this week. (we choose a different Life of The Party EVERY week! All you have to do to be in the running is Tweet about us using the #MTMmixer hashtag RIGHT NOW! – Tweet

Follow our Mixologist – This week our Mixologist is Amy at Adorable Chaos. (That's me! Make my day and follow me on Facebook!) Every week we will choose one participant to get our party started at the #4 slot. All you have to do is link up (and follow the "rules") to be considered!

Follow the person directly BEFORE you on the hop!

Finally, we ask that you post one (or both!) of the following buttons in either a post or on your sidebar to let other people know where you are partying today!
Link up your Blog for GFC and RSS Subscribers:

Link up your Facebook Page:

Link up your Twitter Feed:

Link up your Pinterest Boards: