Over the past six weeks, I've had the pleasure of reviewing the Yearly Membership from SchoolhouseTeachers.com. The membership provides access to their comprehensive site designed to meet homeschooling parents curriculum needs, including full online classes (including high school level), downloadable lessons and courses, and supplemental materials for all ages. They don't stop there; my one year subscription includes a library of ebooks for parents about homeschooling, organizing, and encouragement, the Schoolhouse Planners series, high school to college planning aids, and a 10,000 title video library. If you are just getting started as a homeschooling parent, or have the finish line in sight with a high school student, there are courses here that can help on your path.
As an eclectic homeschooler, I love that SchoolhouseTeachers includes resources that will work with all homeschooling approaches, from interest-led learning and Charlotte Mason, to classical and unit studies. Whether you need to fill in your current curriculum with electives or build your entire curriculum for multiple students, you have what you need all in one place.
For the purpose of this review, I'll focus on the resources we used over the past six weeks and highlight a few that we are planning to use in the near future.
Focused Learning Centers
If your child is struggling with a specific skill, or you are looking for a new way of presenting materials, the focused learning centers are there to help. In this section you will find help for your high school student, including college prep courses and record keeping. For younger students, there are basic reading and math skills review, and games for learning.
You'll also find support for homeschooling special needs students. Judi Munday, a special needs educational consultant, offers her help in a 19-part course for parents. This wonderful resources takes parents step-by-step through the process of determining if your student requires outside help, how to find that help when needed and finally to addressing the child's needs in the homeschool environment.
Everyday Games with Teresa Evans – Reading
We chose to focus on reading using games, which provided a fun change in our routine. My daughter loves these simple games so much that she has demanded we "play" our games everyday at the end of our reading lesson. These games are a great way to learn or review phonics (both beginning and advanced), sight words, rhyming and more.
Studio Art (Middle School and High School)
Taking the time to include the arts in our homeschool has always been a priority for me. As my little women have gotten older and taken on more serious academic studies, art studies have suffered. I was delighted to find a Studio Art class for high school students on SchoolhouseTeachers. So far, we have only had time to explore a couple of lessons, but we found them fun and challenging. My middle school daughter joined us as well, and loved the lesson that covered how to draw owls. You can see some examples of her work below.
SchoolhouseTeachers High School Homeschool Courses
There are a variety of core and elective courses available for your high school student that will allow you to meet both your state requirements and your students interests. Course length varies, and each course includes information that will help you determine how many credits to award per class. Most courses include class descriptions that can be utilized when building your college application. Of course, because they have thought of everything, they also provide transcript templates and tips. There are even classes in College Choice Guidance and Career Exploration.
Video Based Courses
My 12 year-old has expressed an interest in learning guitar, but fitting in an outside class (in addition to all the classes she already attends) would be difficult. This course is next on our list to try! It includes 28 video lessons that will give your student a strong foundation in the basics.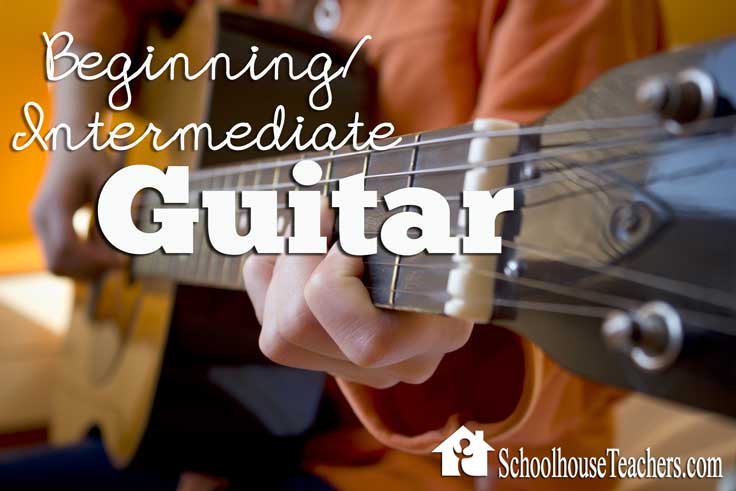 If you have highly visual learners in your home, using video courses can be a tremendous benefit. Other video based courses include Public Speaking, Videomaking, Drawing with Realism, Architecture, Business Plan Creation, Wildlife Adventures, Social Justice, Spanish, Classical History, Geology, Advanced Chemistry and many, more!
Last Thoughts
I'm looking forward to using this site as we continue on our homeschooling journey. Our curriculum is mostly set for the rest of the current school year, but I plan to use this resource as a supplement. My teen (10th grade) and tween (6th grade) will use some of the online electives. My youngest (age 8) has a more flexible schedule, so we'll use it to follow her interests in depth with the science unit studies and we'll continue exploring the many printable games.
The cost for membership is $12.95 monthly or save over 10% on a one-year membership for $139. One fee covers your entire family. SchoolhouseTeachers.com is offering a special discount for my readers: Enter the code CREWFOLLOWER when purchasing a one year subscription and receive 50% off! This coupon is only valid through January 31, 2016.