Educational games are a daily part of our life and homeschool, so I'm delighted to have the opportunity to review The Climbing Knights, one of four new game releases from SimplyFun. SimplyFun is an award winning company that creates high quality educational games for families to play (and learn) together.
Each game is designed to develop specific academic and life skills through play. The subjects covered in their game selection are vast – from simple math to strategy, geography to Shakespeare, and  even global economics for teens.  Here's a peak at some of the skills targeted through their games:
Scientific reasoning and experimenting
Enhancing focus
Memory development
Spatial Reasoning
Strategy, critical thinking and problem solving
Language development
Regardless of your child's age, educational games are a  wonderful way to add fun learning to your homeschool day.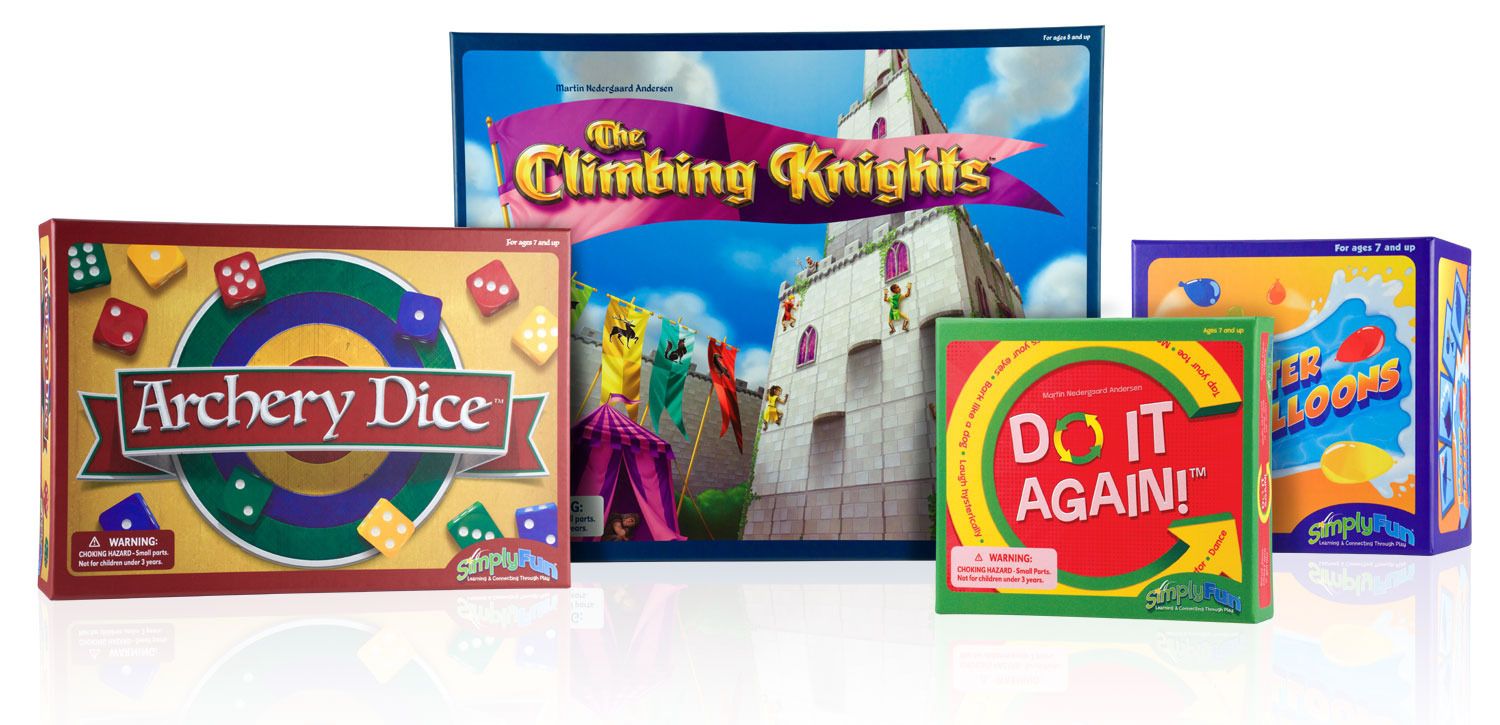 Playing and Learning with The Climbing Knights
Designed for ages 8 and up, this strategic game is for 2-4 players. We absolutely love it. When we first opened the box, we were surprised at the size and construction and my girls couldn't wait to put it together. It's very well made, so you don't have to worry about it falling over or coming apart while playing. Assembly is quick, easy and part of the fun.
The Concept of the Game:
The King of the Castle has invited Knights from across the land to compete for the title of the King's Climber, protector of the Castle's tallest spire.
Each player is a knight trying to climb the walls of the castle, slide past the guards (sometimes they sleep on the job) and obtain their coat of arms from the top. Then, if the coast is clear, they slide down the front of the castle. If at any point on the climb up a Knight is spotted by a Guard, they are sent back down the wall to start again.  Each knight needs to retrieve 2 coats of arms, so to win, you need to be the first to complete two climbs and make it safely down the front of the castle first.
Sounds easy, right? It's fun and simple to learn, but definitely requires a bit of strategy once you get going. The more players in the game, the more difficult it becomes to get your magnetic knight past the guards.
This game is designed to help your kids learn strategic thinking, spacial reasoning and develop fine motor skills. Players will study the castle wall to determine how to move their Knight and avoid being caught by a Guard. When each player takes a turn, all players need to consider how the roll of the dice will impact the Guards and how their moves will impact their climb.
Of course, the kids don't need to know this is an educational game!
SimplyFun offers over 100 award winning products for kids of all ages, including some great games for the teen in your life. Whether you are looking to expand and develop certain skills or just want a great way to have fun with your kids, these games are definitely worth a second (or third!) look.
See them all at SimplyFun, and be sure to follow them on social media to keep up with new releases and special offers.
Facebook   Twitter   Blog     @simplyfun on Instagram


/>