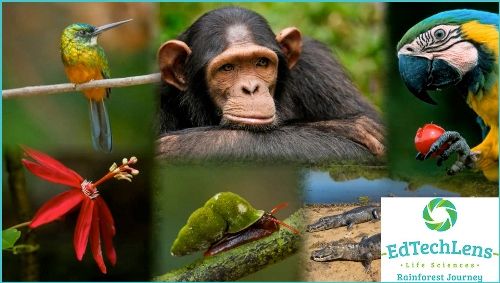 Over the past six weeks, my 9-year-old has explored the wonders of the rain forest, from the odd and interesting animals and plant life, to the canopy and wonders of the forest floor. She's learned in depth and rapidly, all with a bright smile on her face. We've been using Rainforest Journey, a fun and beautiful online science program from EdTechLens .
EdTechLens creates online interactive science curriculum using vibrant media and text for K-5 grade students.
For this review, we were given a one year online subscription for the 3rd grade level class. The program is web based and can be accessed from a computer, tablet or phone. In addition to the interactive lessons, there are also lesson reviews, assessments and activities in PDF files that can be printed out to enhance your child's learning experience.
There are 34 lessons in each grade level, broken down into 5 units. Lessons include a variety of media, from beautiful photography, to audio and the occasional short video. Parent / teacher prep time is minimal and all activities and lessons completed can be easily tracked from the parent dashboard within the program.  Your student works through the program from within their own dashboard.
How We Used Rainforest Journey
My daughter worked at her own pace, generally 2-3 times per week for at least 20 minutes per session (but often longer). She sometimes worked independently, and sometimes I would sit with her because she enjoyed sharing all that she was learning.
All of the reading within the lessons are also available in audio, right there on the page, so she is she struggled with a word, she had the "teacher" read to her while she followed along.  She loved this feature, because it allowed her to hear the pronunciation of difficult words like odd names of animals and plants.
Each unit of study ends with quizzes and assessments. We don't typically do a lot of quizzing for my youngest at this point, but she actually loved having the opportunity to show that she knew the answer to every single question!
I think this program would work well for a student that is a highly visual and auditory learner, who loves to spend time on the computer,  like my daughter.
Our Thoughts About Rainforest Journey
Although this curriculum is designed for a classroom setting, I think it is easily adaptable for homeschool use. My daughter moved through the program fairly quickly because she was so interested in the topic and the interactive pages held her attention for long periods of time. She completed 3/4 of the program during our 6 week review period. Our review time is up, but we will absolutely continue on our Rainforest Journey until she completes the entire program.
This is what my daughter (age 9) had to say about the Rainforest Journey:
"I love it! I mostly like the cute animals that I get to learn about."
For more information about EdTechLens and Rainforest Journey, see their website.  You can view a sample lesson for any of the grade levels here. If you choose to give it a try, take a look at your child's grade level and also the level above. If your student is advanced or very interested in the topic, they may prefer to move ahead a level.
Follow EdTechLens on Social Media: