We have had the pleasure of trying out the Second Grade Literature Guide Set   from Memoria Press over the past month. If you aren't familiar with Memoria Press, they publish high quality homeschooling curriculum following the classical education approach. We tend to take a more eclectic approach to our homeschool days, but literature remains front and center in our lives, and Memoria Press is a terrific resource for us. The carefully selected books are some of my favorites, and their recommended pace encourages slow and thoughtful reading.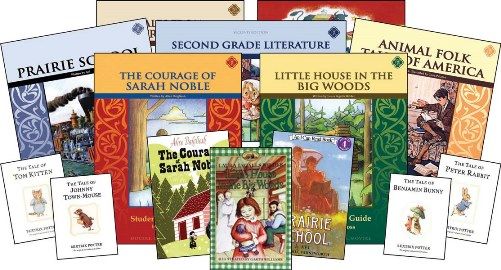 The Second Grade Literature Guide Set includes a teachers guide and individual student guides for each of the novels, including Prairie School, Animal Folk Tales of America, The Courage of Sarah Noble, Little House in the Big Woods and Tales from Beatrix Potter. The books included in this year-long curriculum become more difficult as move your student progresses through the year, as do the questions and activities in the student guide books. Many of the books are considered standard reading for the 3rd grade level, so I would say that this program is for advanced second grade or traditional third grade.  Each of the selected titles provide ample opportunities for discussion, and will draw your child into the story.
For the purpose of this review, my 9 year-old and I chose to read The Courage of Sarah Noble and work through the accompanying study guide. This book falls in the middle of the year long schedule, so it is not the simplest, but also not the most challenging. In our case, it presented just the right amount of challenging questions and vocabulary for my daughter, while she could still enjoy success. She absolutely loved the book, and she completed her study guide pages with no complaints (I consider that a win!).
Each study guide provides chapter by chapter vocabulary, spelling words,  comprehension and discussion questions, activities, suggestions for further study and sometimes honors challenges.
To complete a chapter and the corresponding pages in the study guide, my daughter typically spent about 45 minutes per day. Some of the vocabulary words were challenging, and she occasionally needed help. The comprehension questions are not simply fact based and often require your student to think about how a character may have felt or why they chose to take a particular path.
Before choosing a literature grade level, be sure to look at the sample PDF's available on their website. Taking a closer look at the vocabulary and comprehension questions will help you determine which grade level is right for your student, so  your child can enjoy every word!
The Second Grade Literature Guide Set can be purchased for $65 (Teacher Guides and Student Study Guides) or $115 ( if you would like to include Teacher Guides, Student Study Guides, and novels).  Literature guides are available through the high school level.
If you are interested in learning more about the Literature Guides or any of the many other wonderful products from Memoria Press, see their website or follow them on social media.
Facebook
Twitter (@MemoriaPress)
Instagram (@memoriapress)
Pinterest
Google+