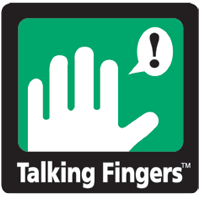 Talking Fingers, Inc.
provides
early writing and spelling
practice for students while they learn phonics with Read, Write & Spell. My daughter has been trying out this program for the past six weeks. It's a fun little way to review phonics and gain familiarity with keyboarding. This game based curriculum offers instruction in phonics, beginning reading, writing, spelling and typing.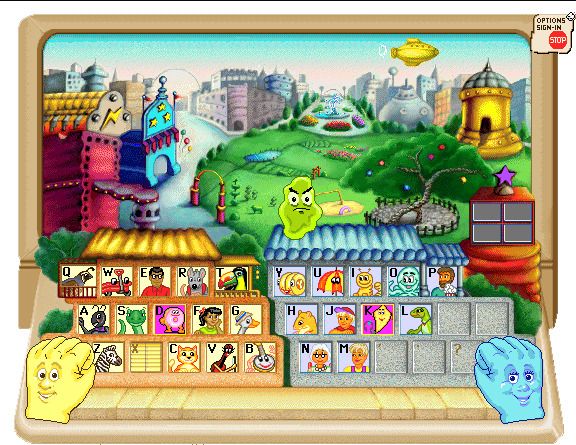 The program begins with two characters – talking hands –  that tell a story and lead your student through games and activities. It begins slowly and builds up skills little by little. Each lesson is approximately 15 minutes long. When a student completes a level, they will receive a certificate that is printable. There are also free, printable curriculum materials provided on their website that offers parents ideas for pre and post activities for working with your kids as they progress through the Read, Write & Type program.
I would recommend this product for students in pre-k through first grade, possibly second grade. It is great for visual students and those who need to develop eye-hand coordination skills. The program also provides special features for students with learning disabilities, reading difficulties, and ESL students, although we did not use these particular features of the program.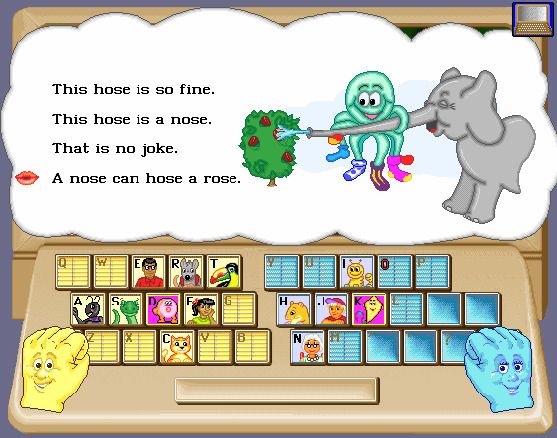 I definitely  recommend getting a feel for how the program works by trying out the free demo. The demo offers your student a chance to learn and experience the program with up to eight lessons. There is also a demo for the parent / teacher, that will give you a clear idea of the benefits of the program as well as the philosophy behind it.
I feel that this is primarily a typing curriculum that will review phonics and spelling with your child along the way, but, my daughter is at the top of the age range for this product and already knew the phonics skills being presented, so learning to type was the most valuable aspect of this program for her.  I think typing is an essential skill for our kids to learn, and it's easy to get a head start on learning the keyboard and proper hand placement with this program.
Read, Write & Type is designed for students ages 6-9. I think this could easily be used for younger kids as well. This might be a little slow moving for kids that are accustomed to fast paced video games requiring a quick response. I think it my be difficult for some students (like my daughter) to wait for the program to advance to more challenging levels, and the game pauses often to load between short activities. Since we are a bit of a techie family and my kids do play their share of fast moving video games, computer games and apps on the tablet, she found this aspect frustrating. Students that are above a first grade reading level may find the phonics review too easy (at least in the beginning), but younger students will likely enjoy the story and find the lessons fun and entertaining.
Read, Write & Type by Talking Fingers Inc., is offered as an online subscription ($35 for a single user). This doesn't require a download. A CD version is also available.
To learn more and to keep up with product changes and offerings, follow Talking Fingers on social media.
Facebook
YouTube
Twitter  @readwritetype