Learning to write well is a priority in our house, so I was excited to try  Writers in Residence a new middle school writing curriculum from Apologia Educational Ministries. Meaningful learning happens easily with this homeschool resource that blends writing, vocabulary and grammar instruction in an easily digestible format.

I was  given the Writers in Residence Volume 1 Full Set, valued at $89, which includes the Student Text and Workbook (all-in-one) and the Answer Key. This curriculum is designed for students in grades 4-8. The workbook is 576 pages, spiral bound and divided into six units, covering sentence structure, opinion, research, short story, autobiography and creative writing units. An answer key / instructor guide is included.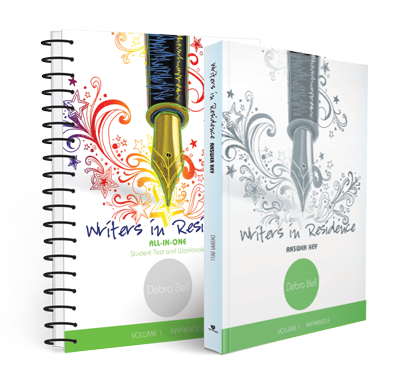 I'm using this curriculum with my middle school daughter (12). I should start by saying that she does enjoy writing, but she likes to write what she wants, when she wants, on topics of her choice. She struggles with being creative on demand (as many of us do), so she was a little nervous about using this curriculum.
Each unit begins with an interview with a successful writer, giving students a peak into their creative process. Each daily lesson is short, so it never felt overwhelming for my daughter. I love the way the student's daily lessons are laid out in the front of their workbook. Independent study is encouraged, and students can check off completed lessons and track their progress.  Occasionally, my daughter would complete 2 lessons in a day, freeing up time at the end of the week for her other activities.
My Thoughts  on Writer's In Residence
I love how the curriculum features successful writers discussing their creative process, interests, and thoughts on writing. As a writer, I  generally find these interviews fascinating, but I  liked that the authors never seem to "talk down" to the readers.
This is an all-in-one curriculum. The program blends writing instruction, grammar and language arts together for a complete course that is engaging. This simplifies scheduling for me, and keeps my daughter away from too much workbook time (which she hates).
Writers in Residence was created by Debra Bell. One of the things I love most about products created by Debra Bell for Apologia is the attention to visual beauty and organization. Writers in Residence is visually beautiful on every single page, putting a sometimes anxious writer (and her mom) at ease just by looking at it. I've used Debra Bell's  homeschool planner for years for exactly this reason –  I can look at what needs to happen on any given day and take a deep breath and relax into it. If you or your student are highly visual learners, this is a tremendous plus.

My daughter and I both enjoyed trying out this curriculum and plan to make it a part of her regular schedule going forward.