For the last several weeks we've been learning all about Johann Sebastian Bach using Music Appreciation Book 1: for the Elementary Grades from Zeezok Publishing LLC.  This program offers a holistic approach to learning about classical music and the great composers. My 6th grader loved this program and my 3rd grader listened in carefully as well. She particularly loved hearing about how Bach, as a child, would stay up all night copying music books that his brother had locked away from him, claiming he wasn't ready for such a challenge.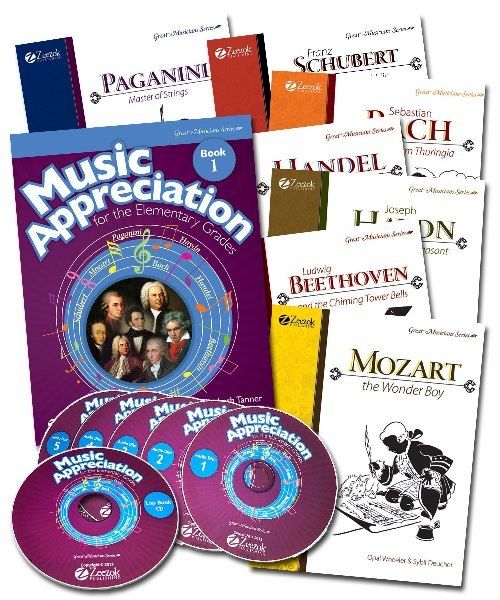 This program is unique in many ways. It gives students a multi-sensory experience that is truly memorable. Through reading the biographies of the great composers and using the accompanying student activity book, students learn in depth about the composers, hear the music they created and learn about classical music and how it expanded and progressed over the years. The activity book expands on this learning by provided additional information about the composers, musical instruments, the different periods of classical music and projects related to the culture of the time (such as a recipe for German rye bread). The activity book also discusses character qualities of the composers and how their work still influences society today.  If your student loves hand-on projects, the Lapbook CD contains everything you need to reinforce learning create a lasting record of all they have learned.
Sebastian Bach: The Boy from Thuringia
We chose to learn about Bach, and discovered that his life and dedication to music was absolutely fascinating. He came from a large musical family in Germany, where music was intertwined with daily life. He developed a passion for music and was encouraged to explore it as a very young child.
As we read about young Sebastian Bach traveling by foot to hear a musical master play, we were prompted in the text to listen to the March he composed and hummed to pass the time. Throughout the book, music on the CD is matched to the story. If your student plays an instrument, the sheet music is included in the book as well, so they can try playing it on their own.
Here's a look inside the student activity book that is utilized in each lesson to reinforce and expand on what is learned in the biography. (click to enlarge):
Music Appreciation for the Elementary Grades, Book 1
This curriculum is complete, giving you everything you need to teach music appreciation in your homeschool. If you are new to this subject, don't worry! You can learn along with your child. No expertise in classical music is needed.
The full program includes:
7 composer biographies
a student activity book
5 music CDs
a lapbook CD
The composer biographies are as follows:
Joseph Hayden, The Merry Little Peasant
Mozart, The Wonder Boy
Paganini, Master of Strings
Sebastian Bach, The Boy from Thuringia
Handel at the Court of Kings
Ludwig Beethoven and the Chiming Tower Bells
Franz Schubert and His Merry Friends
I found this to be a simple to use curriculum, requiring very little in preparation time for me (always a plus!). It offers a multi-sensory experience (as music should be) and offers opportunities for you and your student to expand on topics using the workbook and lapbooking projects. Best of all, the biographies, like the composers, are fascinating. These are living books that are well suited to be read aloud and shared as a family, if that is the approach you prefer. Additionally, this program exceeds the national standards for music appreciation in grades K-6.
We are looking forward to completing the entire program over the next year. Classical music is a subject we've only lightly touched on in our homeschool in the past because my kids didn't enjoy it. I am delighted to have found a program that is engaging,  in depth and fun for my girls.
Take a look at the full program and other products from Zeezok Publishing LLC here.

Follow Zeezok on social media: