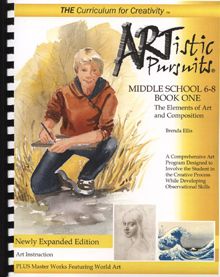 Let me start by saying this: I love teaching and exploring art with my kids. Being able to spend as much time as we want drawing, painting and creating is one of the reasons I love homeschooling. I've had my eye on ARTistic Pursuits Inc. for years, so I was delighted to have the opportunity to try it out and share our experience here. We chose to try out Middle School Book One and we weren't disappointed! We have never tried an art program that focused specifically on drawing, because it is not one of my strengths. This program turned out to be a perfect fit for my middle school age daughter.
Aside from the specific technical instruction, my daughter was inspired by the ideas presented in the book. She often wanted to make her projects her own (like sketching a cat rather than the suggested elephant), which was fine with me. She used the techniques taught in the lesson in her drawing.
Here's an example of the flexible, positive attitude that is expressed throughout the program:
"Doing your own thing is encouraged. True art is not about copying a technique. True art is not about being as good as someone else. True art is about exploring your own strengths in the arts as you use the lessons in each unit to bring new information, to inspire and to generate new ideas."
About ARTistic Pursuits: Middle School 6-8 Book One The Elements of Art and Composition
Each of the 16 units is comprised of four individual lessons, and each unit covers certain elements of art and explores that element through building a visual vocabulary, art appreciation and art history, techniques and application. This well organized approach helps students to naturally incorporate what they have learned into their drawings.
Benefits of ARTistic Pursuits:
Once you have your art supplies gathered, this is a grab and go curriculum that doesn't require additional planning time.
Provides scheduling suggestions for your art class. At two classes per week, that average around an hour, this curriculum will take 36 weeks or an entire school year.
Students are consistently encouraged to do their best and are assured that making mistakes is part of the creative process.
Students can work independently (although my daughter and I enjoyed working through this together!).
Art supply packs can be purchased directly from their site for the course, so you don't have to go searching for them at local stores.
Overall, our experience with this program was extremely positive. My daughter took the objective in lesson one deeply to heart. I think she found it both comforting and freeing:
"Objective: to understand that artistic ability is not a talent possessed by only a few gifted people, but a skill that any individual can learn and develop."
Some of the lessons were challenging, like learning to draw to texture, which took more than a couple of tries to get the desired result. My daughter is not easily frustrated, and I would recommend this program for students with a similar attitude. I would suggest choosing a level that is a little more basic for students who are easily frustrated or struggle with wanting to be perfect.
To find out more about the different homeschool art curricula available from ARTistic Pursuits Inc., see their website or find them on Facebook. To read reviews of other levels of this homeschool art curriculum, click the graphic below.