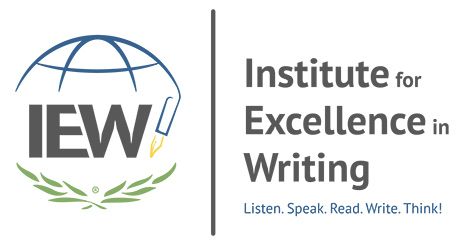 We love Institute for Excellence in Writing so I knew adding Linguistic Development through Poetry Memorization to our daily schedule for this review would be beneficial to my kids. I wasn't completely convinced that my children would enjoy this curriculum, but after reading a little about the benefits of poetry memorization, I was 100% certain that we needed to give it a try!
Why memorize poetry? Why not simply read and enjoy? It's important to answer these questions when considering this program. This curriculum is based on the concept that students need a large database in their brain of reliable correct and sophisticated language patterns in order to communicate effectively in both writing and speech. As IEW instructor Andrew Pedua explains "you can't get something out of a child's brain that isn't there to begin with."
Basically, you need to know this:
Memorization furnishes the mind, builds language patterns in the brain, and students can then use this language, and the patterns learned, in their own speech and writing.
Through the process of memorizing poetry, students can build sophisticated communication skills. This program guides parents and students through the process of building a repertoire of memorized poetry and educates parents at length as to why this is a project worth undertaking. For example, memorized language influences neurophysiology. It changes your brain. When you memorize anything, to the point you can recite it precisely, your brain builds a pathway of neurons that didn't exist before. This practice can actually physically expand your brain and your abilities.
About Linguistic Development through Poetry Memorization
The kit I received consists of a teachers guide and a student guide (both spiral bound), containing 96 poems and speeches,, divided into 5 levels. The teacher's guide includes in depth guidance and instruction for successfully completing the program, as well as memory checklists, poet biographies and certificates for students to mark their achievements as they move through the program. A set of 4 poetry CD's are included to aid students with memorization. Although I found using the spiral bound student guide beneficial, it can also be purchased as an ebook and printed as needed.
I love that IEW prioritizes educating parents as well as students! Understanding why and how a particular course of study will benefit your child is essential. IEW included multiple resources to help parents understand the purpose and teach with expertise, including:
Nurturing Competent Communicators on DVD: Andrew Pudewa's seminar explaining how and why poetry memorization can benefit students.
Access to 7 mp3s files download from the IEW site. I haven't finished listening to all of them, but I'm working on it!
Nurturing Competent Communicators
Mastery Learning, Ability Development, and Individualized Education
Ten Thousand Times and Then Begins Understanding
On Listening
On Speaking
On Reading
On Writing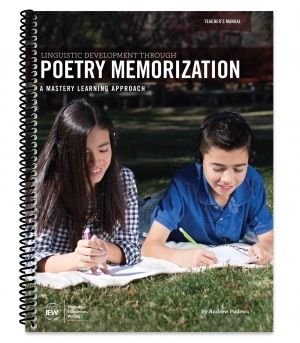 I used this program with my three daughters (9, 12, 16). My 9 year old was the primary user, and absolutely loved memorizing these fun poems. This program can be used for all ages, and older or more advanced kids can use the early levels as preparation for the more difficult language used in Level 4 and 5. We all began with the Level One poems (as directed).
Basically, this is how the program works:
Teacher and student recite the first poem together several times a day. Use the audio CD to help.
Recite the poem everyday until the poem can be recited with easily and without hesitation.
When your student is ready to move on to the next poem, great! But Don't forget to review all the previous poems daily. Remember, practice makes permanent!
Discussion. Poet biographies are included, as well as optional lesson enhancements that offer information about each poems use of literary devices and poetic elements. Exploring poetry with your children will bring up many opportunities for discussion. Take the time to discuss each poem, look up words that are new and make sure that your students get the full value from the words they are memorizing.
I was surprised that my kids enjoyed this program so much. Memorization generally brings grumbling around here, but this was different. I also noticed that this was a confidence booster for my youngest daughter. She is so proud of her ability to recite her poems!
So, while my kids are having fun, laughing and adding drama to their recitations, their brains are expanding. Through their focus on memorizing language, the words and sophisticated language patterns are becoming a part of them.They can look forward to experiencing the cumulative power of memorized repertoire as they grow as writers and speakers. Isn't that amazing? I think I can add that to the long list of reason we homeschool. 🙂
Learn more about IEW and Linguistic Development through Poetry Memorization by visiting their website here.
Connect with IEW today at Facebook, Twitter, Pinterest, and Youtube.

---