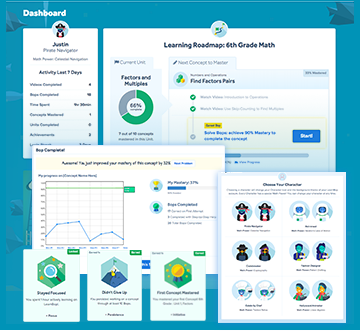 One of the challenges of homeschooling in our family has been finding the right approach for math for each of my kids. What works for one generally doesn't work for the others. With a little extra effort, keeping them engaged and practicing consistently with a minimal amount of stress can be done!  LearnBop has a great new way to explore new concepts, practice, and master math with their LearnBop for Families subscription.
 This is not a program that simply tests your child's understanding or drills facts. It's designed to help your child master concepts by clearly explaining them visually. It's like having a personal math tutor for your child, complete with positive reinforcement and encouragement to keep students motivated and optimistic about their experience with math.
What is LearnBop and how does it work?
LearnBop for Families is a 12-month online math subscription service for grades 3-12, designed to provide personalized math instruction. It can be used to help your struggling student catch up, or your gifted student move ahead at a pace that is comfortable for them. This personalized learning program adapts to your student's needs by identifying gaps and providing  instructional videos, hints to help solve problems and feedback on work completed. It can be used as a supplement to your current math curriculum, as review, or as a stand-alone math program for your homeschooled student.
Our Experience with LearnBop for Families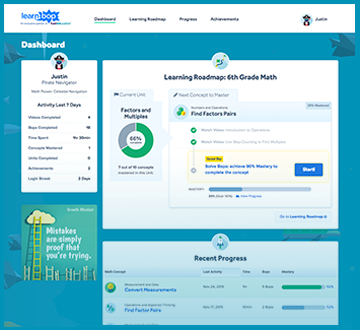 Getting started and set up with the program took less than 5 minutes (yes, I was impressed by this!). LearnBop's parent/student  dashboard is extremely user friendly and intuitive.  It has all of your student information in one place, making it simple to view progress. Each of your students has their custom Roadmap (which can be grade level or topics based) and can be viewed from here as well.  Students can easily pick up where they left off in their last lesson and if you need to move them up or down a level, it's easy to change their Roadmap at any time. My girls are visual learners who prefer to set their own pace and LearnBop  allows this, but only when they've mastered a topic. They can log in and work independently, while the program keeps them on track.
Lessons include video tutorials, with additional videos provided to reinforce topics. If your student is a highly visual learner, they will definitely appreciate the appealing design, layout and flow of this program.
My oldest daughter (16) is preparing to take the SAT's in the fall,  so we chose to use the High School Algebra 1 Roadmap for review, to fill in any learning gaps, and to strengthen skills in areas she finds challenging. The program allows you to move to a new topic or change the path at any time. Some of the topics covered in this roadmap include:  Statistics, Quadratic Equations and exponential functions. Math is not my daughter's favorite subject, but she found this to be an effective way to work through and practice challenging topics.
My youngest (9) tried out the Grade 3 Roadmap. Some of the topics were new to her, while others were review. Overall, this was a very positive experience for her. She enjoys math and loved earning rewards in the program for successfully moving quickly through topics she already knew. This was a fun way for her to be in charge and work independently. She loved exploring new math topics through the videos and we plan to continue with this Roadmap over the summer.

Prices for the program start at $14.95 per month for a single student. The family rate, which includes up to 4 students, starts at $19.95 per month.  LearnBop offers a 30 day money back guarantee, just in case you find that it isn't a good fit for your child.
Visit LearnBop  for more details or follow them on social media to learn about their products: