Have you tried adding notebooking to your homeschool days? I was delighted to explore this approach with my kids by using the Lifetime Membership from NotebookingPages.com. This resource provides a great way to enhance learning and allow your kids to create a beautiful portfolio showcasing what they've learned.
Since this approach is somewhat new to me, I read the tutorials and watched the videos explaining how notebooking works, the different ways it can be incorporated into your homeschool day and the benefits of using narration. NotebookingPages.com encourages you to let go of the tedious worksheets and workbooks (saving time and sanity) and to focus on enjoying learning. Using the notebooking approach (daily or occasionally) can add significant results in learning and retention without increasing your stress. If you've ever fought your way through a boring lesson with your child, you know that is a big deal!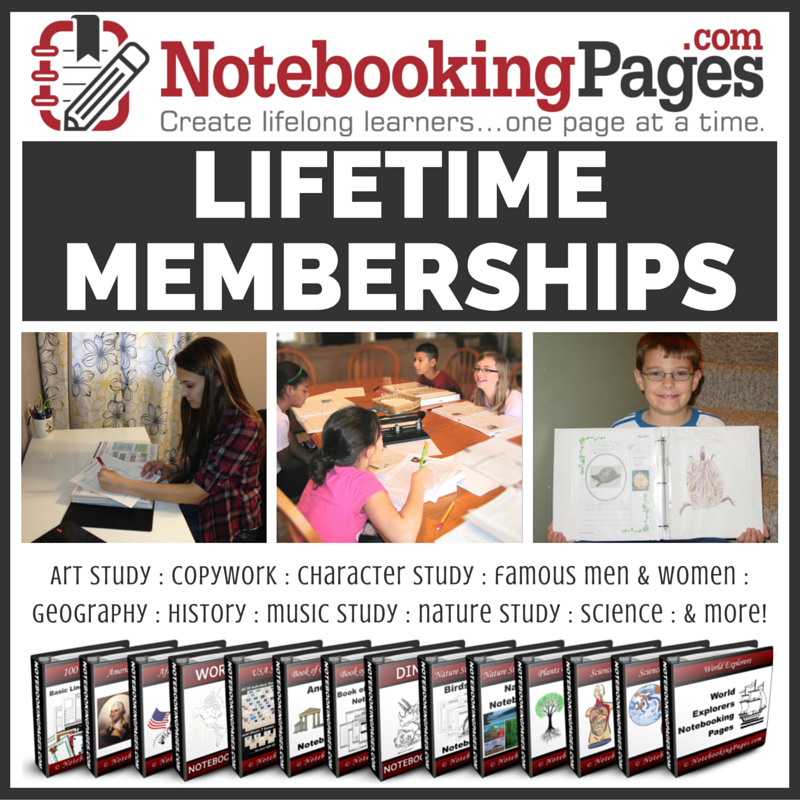 Through journaling and narration, your kids can explore a wide range of topics. Notebooking can be added to your current curriculum. For example, my 6th grade daughter has been studying world geography this past year, and certain areas were still a little hazy. We chose specific pages from the site to download and use to review and reinforce her learning. Notebooking can also be used without curriculum, to follow your student's interest, or document interesting facts from a book they've read. The pages available could easily be used as a starting point for a new study.
Here are some of the pages we used from NotebookingPages.com (click to enlarge):
Are you wondering what topics can you cover with notebooking pages? Basically- everything. Here's a sampling of what you'll find:
Art Study
Copy Work
Geography
History
Music Study
Science (a variety of levels and topics!)
Nature Study
Character Study
Famous Men and Women
What I like about NotebookingPages.com:
Total flexibility of use. I can adapt the pages to go along with what my kids are learning or use them for inspiration to take us in a new direction.
Documenting learning in a beautiful way provides a confidence boost for my daughter. She loves to share her learning (and art work) by displaying it.
Notebooking leaves plenty of room for creative expression. There are always many layout options to choose from for each topic. My girls typically choose the pages that leave space for their drawing or to color detailed illustrations.
Can be used with an interest-led learning approach.
The wide range of topics available. We tried out pages from a variety of areas (and have a few in mind to try next). We used pages for astronomy, geography and learning about animals.
Clear, inspiring tutorials that walk you through the process of preparing, getting set-up and getting started with narration.
Well organized, easy to use website with simple instructions for downloading resources. Users can download entire sections, or single pages quickly.
From preschool alphabet pages to detailed science pages, there are valuable resources here for all ages and stages. My kids are enjoying this approach and my youngest is already planning her notebooking project (birds!). It has simplified our days, and notebooking never feels like busy work. We will definitely keep using this resource. If you would like to try out notebooking with your kids, there are two membership options:
Free Membership – get over 600 pages to get you started with notebooking. Included an email tutorial. A great way to try out notebooking with your kids.
Lifetime Membership – all access, now and always! Access to thousands of pages, plus all future additions to the site.
Connect with NotebookingPages.com on social media: