Every once in a while, I have the pleasure of reviewing a product that is entirely unique. The Solar System FlipStir Puzzle from Enlivenze LLC is one of these products. My intention was to review it with my 9 year-old, but she wasn't the only one who wanted to give this puzzle a try!
What are FlipStir Puzzles?
FlipStir puzzles are self-contained 3D puzzles that when solved, reveal artwork. The instructions are simple: shake it up, stir it around and solve. Players use a little wand to move the pieces into place. Puzzles are available in two levels and are designed for kids ages 7 and up.
For our review, we chose the solar system puzzle (level 2). To solve this puzzle, you have to be familiar with the planets and their location in the solar system, or you can use the box to learn the order of  the planets as you solve the puzzle. Since we have been studying astronomy for a while now, this was a good fit for us. Other puzzles include a Rainbow, Tyrannosaurus Rex, the Statue of Liberty and the Periodic Table.
Level one puzzle pieces have a flat edge:
This is what the puzzle looks like when you mix it up and get started: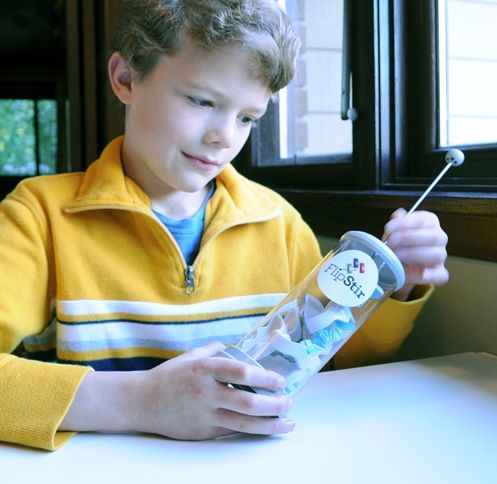 At first glance I thought this will be a breeze to master, but I was quickly (as in less than a minute) proven wrong. After a few minutes of trying to get the pieces lined up, I handed it off to my 12 year-old. She examined it, eyebrows furrowed, and retreated to the couch to solve it. She returned less than ten minutes later, with a big smile and a completed puzzle. She loves this puzzle and has completed it several times now, including demonstrating exactly how to solve it for her easily frustrated mom.
There are a  few things that I love about this puzzle. It is challenging enough to keep kids engaged, the artwork reinforces learning and I can throw it in my bag and take it along with us without worrying that the pieces will get lost.
I would recommend level two puzzles for kids who really like a challenge, or for older kids. For children who are easily frustrated with puzzles, level one might be a better choice to start.
To see the full selection of FlipStir Puzzles, check out the Enlivenze LLC. website. Follow Enlivenze and FlipStir on social media for more information and updates.
FlipStir Puzzle:
Facebook: www.facebook.com/flipstirpuzzle
Twitter: www.twitter.com/flipstir
Enlivenze:
Facebook: www.facebook.com/enlivenze