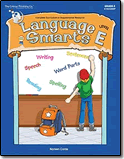 For the past six weeks, we've been trying something new at our house. My 9 year-old is learning quickly (and painlessly) about grammar, reading comprehension, writing, punctuation usage and spelling using a single resource. I love the thoroughness of Language Smarts™ Level E from The Critical Thinking Co.™. It's a full language arts program that covers everything a 4th grader needs to know, a perhaps a bit more!
What is Language Smarts?
Language Smarts is a complete language arts program that can serve as your core curriculum or can be used as a supplemental resource. It's available in different levels for grades 1-4. We are using Level E, appropriate for student in the 4th grade. The books are available in paperback and digital editions.
Topics covered include:
Syllables
Word Relationships (synonyms, antonyms, anagrams, analogies, palindromes)
Spelling
Reference Materials
Writing Skills
Parts of Speech
Punctuation (commas, quotations, end punctuation, colons and semi-colons)
Using Words Correctly
Reading and Writing (smilies, idioms, genres in literature, context clues, metaphors)
Editor-in-Chief
Writing Detective
How We Used Language Smarts Level E
The book is arranged by topic, and we decided to work on two topics at a time to keep things interesting. For example, during the first week we worked on syllables in one section and nouns (common, proper, plural, possessive) in another section. On average, we completed two pages each day. We added a page from the spelling section to our day at the end of the week. It was easy to manage going deeper into topics that my daughter was already familiar with, and the book offered pages with introductory information for topics that she had not exposed to before. We'll continue through the program in this manner, taking on the more difficult topics as we get further into the year.
My daughter enjoyed this program more than I expected! Although she enjoys learning and practicing spelling and grammar, I wasn't sure if she would get bored with the workbook pages (she didn't). If your child likes a workbook approach to learning, then this would likely be a good fit. I absolutely loved having our entire language arts program in one book. I found it easy to plan our week quickly.
I would recommend looking carefully at the samples on the website before choosing a level for your student. The lower levels are more colorful and less dense per page, but are still packed full of opportunities for learning. Level E is definitely challenging enough for my fourth grader and this one book could easily keep her busy for this school year.
The Critical Thinking Co. has a large selection of software and books for all ages to help your homeschooler succeed. This family owned company has been providing award winning products for 60 years, and currently offers over 200 educational products. If you are interesting in a product for younger homeschoolers, take a look at Reading, Writing, and Arithmetic Before Kindergarten!™
Connect with The Critical Thinking Co.™ on social media:
Facebook,
Google+
Pinterest.