Do you have clear memories of being drilled on the times tables when you were a kid? Do you recall the boredom of the experience? Luckily, there is a much easier – and fun – way to get your kids through the process of memorizing multiplication facts. Over the past weeks, my daughter has been using Times Alive online lessons with animated songs and stories to learn times tables the fun way. The software is based on their popular book Times Tables the Fun Way! which has successfully helped students learn their multiplication facts for years, without the frustration.
For this purpose of this review, I was given a three month subscription for this program.
Students are encouraged to use the program for twenty minutes sessions, twice per week, for six weeks. And that's all it will take to get these facts stuck in their head once and for all! The colorful illustrations and cute stories help kids memorize facts quickly and painlessly.
How We Used Times Tables the Fun Way!
Getting setup and started with the program was easy and took all of five minutes. My daughter (10) has some experience with multiplication and is pretty good with the facts from 0-5. Still, there are always certain facts that she forgets, and this program helped them stick in her mind. The facts for 6-9 were a bit fuzzy in her mind when she began the program, so much of it felt new. She worked her way through with ease and little frustration. She sometimes found the songs irritating or too babyish for her taste, and prefers to read the stories herself. I think the songs offer a wonderful way for younger kids to learn and remember facts. She enjoyed the interactive aspects of the program, even if they were a little young for her.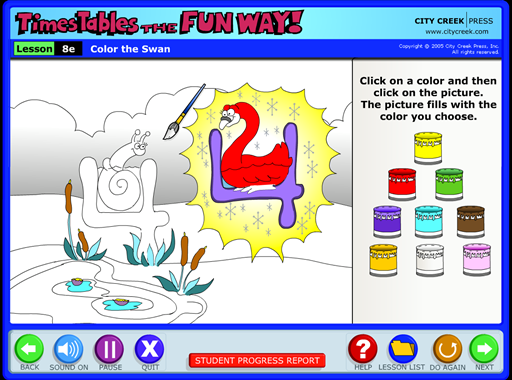 Here's a look at a what the songs and stories are like:
Tracking Progress
Parents can esily track their students progress as they work through the program by checking in on the progress report page. The report will let you know which lessons your child has completed, how they scored on the quizzes and if they started and then stopped a particular lesson without completing it. It allows parents to quickly assess which facts need additional work and if their child is struggling with any particular facts.
What We Liked About Times Alive
It kept my daughter engaged in learning, most of the time. Occasionally, she would get bored. She would take a break and come back to it later or the next day.
My daughter is a visual learner, and this met her learning style well. I think the songs would be wonderful for young auditory learners as well.
The program covers all of the times tables, from 0 to 9.
At $9.95 /per month, it's budget friendly.
It can be used for multiple students.
Overall, this is a fun and adorable program that's easy to use and effective. I do recommend considering your child's age and maturity before purchasing.

See
City Creek Press
for a Monthly Subscription Online Version.
Learn more and connect on social media:
Facebook – Learn Multiplication
YouTube – Watch a sample of Times Alive here: Times Alive 6 x 6