Sharing my love of art with my little women is one of my favorite part of homeschooling. Spending a relaxing afternoon creating something new and beautiful never stops being a joy for us.
We've recently had the pleasure of trying out the Monthly Plan from Creating a Masterpiece, which provides my girls with excellent video based art instruction. The lessons take students step by step through an art project. Lessons can be from 20 minutes to an hour long, and most projects are completed over the course of several lessons. The lessons are carefully planned and moved at a pace that worked well for us. The goal of the lessons are to help your child create a piece of artwork that they will be proud of, regardless of age or previous artistic training.
Through the monthly plan, students have access to lessons in a wide variety of artistic mediums. Lessons are divided into levels, so students can work their way up to more difficult projects as they progress through the program. The instruction is diverse enough to challenge teens and adults, and clear enough for young children to follow as well. Here are some of the 15 types of media covered in the program:
Soft Pastel and Oil Pastel
Watercolor Painting
Charcoal Drawing
Sculpture
Wood Burning
Silk Painting
Acrylic, Oil and Watercolor Painting
Glass Mosaic
Copper Tooling
Carving
Mixed Media
For the purpose of this review, we chose to try out several of the lessons using soft pastel. We began with the Level One lesson, called Peaceful Lake. Note: this is the same project that is pictured above.
We continued on with the soft pastel lessons, and worked through a Level Three project called Dutch Windmill. This project took a bit longer, and required more precision to achieve the desired effect. This project consisted of three lessons, and each lesson is further broken down into three or four parts, giving your young artist the time to make corrections, take a break or work on mastering new techniques.
My girls and I enjoyed working with soft pastels and learned a lot in the process. The video lessons were clear and well organized. Our overall experience with Creating A Masterpiece was very positive and happy for us all and we will definitely continue to explore all that this program has to offer. The girls have already made plans! What's next on our list? The Butterfly (13) wants to give wood burning a try and the Princess (10) would like to explore the watercolor painting lessons. I love that Creating A Masterpiece offers so many different options for exploring your creativity through a flexible format. Being able to access professional art instruction at home, on your schedule is definitely a benefit!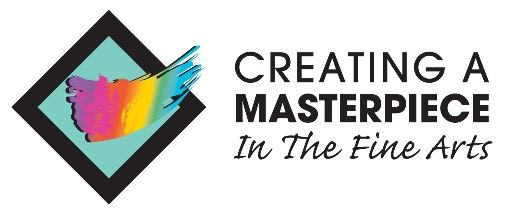 Families can choose from monthly or annual student plans, which offer unlimited family access to all the projects. An individual level may be purchased for a year. Learn more about this program by visiting Creating A Masterpiece, or follow them on Facebook or try a free sample project.