As a writer, the desire to encourage a love of creative writing in my kids is strong. I'm picky about what resources we use in our homeschool writing projects. I want my daughters to be inspired, and approach writing with a positive attitude. My goal is for them to experience the joy of bringing a story from the depths of their imagination, putting it on paper and sharing it with a reader.
Over the past 6 weeks, we've been working on creative writing with Home School Adventure Co.'s Creative Freewriting Adventure. We received a free pdf version of both Creative Freewriting Adventure and Creative Freewriting Adventure Coloring Edition for the purpose of this review.
Often, we force our kids to write within a very specific guidelines. By freeing them from these guidelines – taking them out of the box of academic writing and the pressure – students can write more creatively. In Creative Freewriting Adventure, they are given plenty of ideas and guidance along the way to create something entirely their own. This program was designed to help high school students explore their creativity through writing. Even reluctant writers will find the format of the lessons painless to complete.
The definition of freewriting:
Free writing is a prewriting technique in which a person writes continuously for a set period of time without regard to spelling, grammar, or topic. It produces raw, often unusable material, but helps writers overcome blocks of apathy and self-criticism.
So what's the point of freewriting if there is not a usable finished product? Getting started. Freewriting helps writers of all ages put pen to paper, let the words flow and find their voice as writer. Students can always go back later and revise, build on or polish their work if they like.
Here are the simple instructions, straight from the book:
CREATIVE FREEWRITING INSTRUCTIONS:

Set the timer for 15 minutes and invite students to write spontaneously—without the pressure of having to spell or punctuate perfectly. Let them have fun! The point of these freewritings is to be playful and simply to delight in the writing.
Now, if you are familiar with writing prompts, these are a little different. Lessons are far more in depth that the typical prompt that ask a single questions or requires students to use a sentence as a story starter. They give your students something to think about before attempting the prompt, which is wonderful, particularly for kids who complain of "having no ideas." First, students are immersed in a story and then they are given "a way in" to participate in the story or concept using their own creativity and perspective. Additionally, students are given a list of questions to help spark ideas, but they aren't required to answer the questions.
Wondering how this looks? Each lesson or prompt is broken into 3 pages (4 in the coloring version of the book). Pages include illustrations and full color artwork Have a look at our favorite lesson:
What did my teen think?
My daughter (a junior in high school) loved these lessons. She does a great deal of academic writing for her AP classes and found these lessons to be a fun, refreshing change of pace. This program showed her how much she misses the freedom to write creatively on a daily basis and served as inspiration for her to get back to writing fiction.
She preferred to focus on writing, but we both thought that the coloring exercises would be a nice addition to the lesson if time allowed. The coloring book edition contains all the same lessons as the original version, plus a coloring page to go along with each of the ten lessons.
Creative Freewriting Adventure is published by the Home School Adventure Company. Find out more about their other offering at their website, or follow them on social media.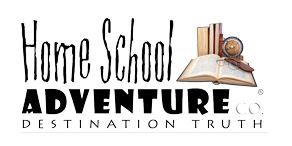 Find them on social media:
Twitter @HomeSchoolAdven
Facebook
Pinterest
Google+
YouTube