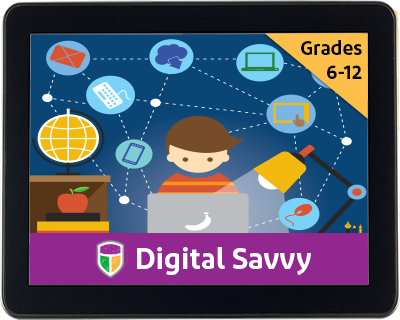 In this age of technology it's essential that our students understand fundamental computing topics, so I knew I wanted to review the new Digital Savvy course from CompuScholar, Inc. CompuScholar, Inc. has made it their mission is to help teachers and parents provide students with digital literacy and computer science skills. Currently, they offer seven different online courses (including web design and programming) for middle and high school students who wish to acquire these important skills. Courses are delivered through instructional videos, with the text of each lesson available to the student if they prefer to read or would like to refer back to the information quickly. Students are quizzed and assessed after lessons, and project work can be assigned.
We're a bit of a tech family, and my kids have had a great deal of exposure to computers and technology since a young age. I was interested to see what my oldest daughter had picked up by living in our house, and what gaps needed to be filled in her tech knowledge. I want to be sure that she has a well rounded knowledge base and the skills she needs to succeed in college and beyond. We have studied the history of computers briefly, but she has never taken a formal approach to computer science. She isn't interested in programming or a career in the tech industry, yet at 17, she has a diverse set of skills acquired from living and working on different projects over the years.

About the Digital Savvy Course:
We received a $120, one-year self-study introduction to computer science course from CompuScholar, Inc. The course is also available as a $15 per month subscription. It is designed for students in 6th through 12th grades, and can be completed in a year. This is a self paced course, so a motivated and interested student could easily speed up their progress through the course.
This course covers a wide range of topics. When your student completes this course, the will have a working knowledge of computer science and core technology skills.
Fundamentals of Computer Hardware
Fundamentals of Computer Software
Operating Systems
Computer Files
Maintenance and Troubleshooting
Security
Networks
Word Processing, Spreadsheets and Presentation Programs
Database and Project Management
Social Media
Internet Communications
Digital Images
Creating Webpages and Webpage Design
Links, Images and Animations
Programming Concepts
Careers and Professional Skills
Our Experience with Digital Savvy
My daughter is currently a high school junior, and found that some of the lessons moved a little slow for her, so she chose to move quickly around the lessons. She identified a few things that were extremely helpful to her right now, such as the word processing lessons, where she learned advanced formatting skills for writing a term paper, like how to use headings throughout her text to then create a seamless table of contents. She has been using Word for years now for essay writing, but learning the advanced functions has been a time-saver for her.
Generally, when she was familiar with some of the material, she skipped through some of the beginning / introductory lessons to get to information that was new. For example, she took the tests for the social media chapters (17 & 18), and scored a 90% without watching the video lessons. I wasn't surprised, she lives with me, after all! 🙂
Overall, she enjoyed this course, and felt that it helped her take her computer skills up a notch. I think that it helped fill in the gaps in her knowledge, specifically with understanding networks, security, troubleshooting, and database management. It provides a very comprehensive and structured approach to learning computer skills and definitely goes beyond the basics. This is an excellent resource for teens (and adults who would like to learn more), especially if computer science is a subject they haven't explored in depth.
Learn more about the courses offered by visiting CompuScholar, Inc. or find them on social media:
Facebook
Twitter