I never talk politics here on the blog, but this election season is so ripe with material that I can't hold myself back any longer. This beautiful, unexpected snow day has opened up a little free time for me to sneak in some light reading, and that reading has forced me to think about Heaven, Hell and Donald Trump.
Yes, I'm reading Dante's Inferno. It's all in the attitude. If you approach it with a firmly dark sense of humor, the many levels of hell are a hoot. Seriously. Call me dark and twisty if you like. You won't be the first. I find myself laughing all the way down through the levels of torture, thinking about who belongs where. It's justice.
Understand, I don't actually believe that Dante's hell is necessarily an accurate depiction of the afterlife, but I do feel that he was enlightened in his visions of the evils of humanity and the corresponding punishments. It all makes me wonder….
What level of hell is prepping the massive, flashing neon Trump sign to welcome him to his eternal home?
If we are to believe what he has stated in the past (which I admit is a stretch) he doesn't think he needs forgiveness for anything he's ever done. He said this:
"I'm not sure I have ever asked God's forgiveness. I don't bring God into that picture….When I go to church and when I drink my little wine and have my little cracker, I guess that is a form of forgiveness. I do that as often as I can because I feel cleansed."
Ah, I'm not so sure that counts. Humbling yourself before God? Kind of a big thing for Christians, am I right? Also, the wine and crackers aren't an appetizer to your gourmet dinner. Since he claims to be a Christian and thinks the Bible is really neat "a most special thing," I think it's fair game to discuss his eternal future. We could also talk about what his next life could entail if he believed in reincarnation and karma (big, loud and tacky karma), but I think that's a debate for another day.
He would be a most special jackass.
I'm going to give you an out, right here. If you aren't interested in hearing anymore about Trump, I don't blame you. How about exploring why Ted Cruz's face bothers so many people? It's fascinating. Why Ted Cruz's Facial Expression Make Me Uneasy
Not interested in that either? How about What Ivy League students are Reading that you aren't Notice the importance of Dante?
Still with me, brave soul? We're going deep into hell now. Here's a quick look at the Dante's levels of hell, in case you need a refresher or slept through your English classes (no shame in that, by the way, and no specified punishment).
A quick search shows that I didn't have an original thought in contemplating what circle of hell is prime Trump real estate. I think he would land at least at level 8, possibly 9 (with Judas and Lucifer himself) and Howie Siegel thinks so too. Level 8 is reserved for the perpetrators of fraud (punishments vary based on sub-circle). This is not for the straightforward criminal. This is for the prosperity preacher begging money from followers to buy a private jet. This is for the guy who preys on the innocent for his own gain. This is for the sociopath and the narcissist. Trump is indeed a narcissist, according to Harvard psychologists. Siegel makes his case (so I don't have to):
"He is so smart, in fact, that he figured out how to work the legions of ignorant, angry followers who now support him, the exact same way that a prosperity preacher works his legions of gullible and vulnerable who send in contributions. He knows they need to believe all of the crap he spews so he gives them exactly what they want to hear. I think he laughs at them in the limousine after he cons them….He needs their adulation to get what he wants. And what he wants is to be King.

The prey animals line up to feed his need for glory and power so he tells them exactly what he thinks they want to hear. …They have the exact same mindset as the the sieg heil crowd had in the late 1930's. They would like to deface the Statute of Liberty inscription that says, Give me your tired, your poor, your huddled masses yearning to breathe free, with, Give us someone, preferably non-white — to blame. Trump obliges. Almost every day. Not because he believes it. But because that is what his fearful and hate-filled customers want. Which explains why William Daniel Johnson, chairman of the white-supremacist neo-Nazi American Freedom Party proclaimed that Trump is the real deal. It is a fact that Donald Trump is the resounding choice of Nazis, and white supremacists."

Read the entire post here.
James Poulos at The Week penned a piece about Trump as sower of discord (also placing him in the 8th circle): For the GOP, Donald Trump may be evil incarnate – literally
Here's a bite to chew on:
Readers of Dante will recall that, in the Inferno, a special slice of hell is reserved for the sowers of discord — schismatics who tried to advance themselves by dividing institutions. For these evildoers, Dante meted out the poetically just punishment of physical dismemberment. Just as they hacked apart the human bonds around them, so their bodies now were sliced and diced forever.
Now I'm going to beg, though I hate to do it. If you are a believer in God, the Force, Good Magic, or have faith in the potential of humans to evolve morally, intellectually and spiritually, I am pleading with you. Stop supporting Trump. I'm not asking as a Christian, Muslim or Buddhist. I'm not asking as a Republican, Democrat or Independent. I'm asking as a human being who loves freedom, life and goodness. Trump is not offering this country anything at all. He won't make anything better. He'll only use us to feed his insatiable thirst for power and attention. He threatens war with little reverence for human life, and sets us up to hate each other. It's a long con. And I'm sorry to have to be blunt here, but you are being a bunch of suckers.

Remember that guy in history who preached racism and threatened mass deportation? The one who tried to build an empire based on the hatred of particular ethnic group? If we, as a country are so ignorant that we can't recognize what Trump is, then perhaps we deserve him.
And we all will suffer. I may be able to find humor in Dante, but I can't find anything funny about a future with Trump as president.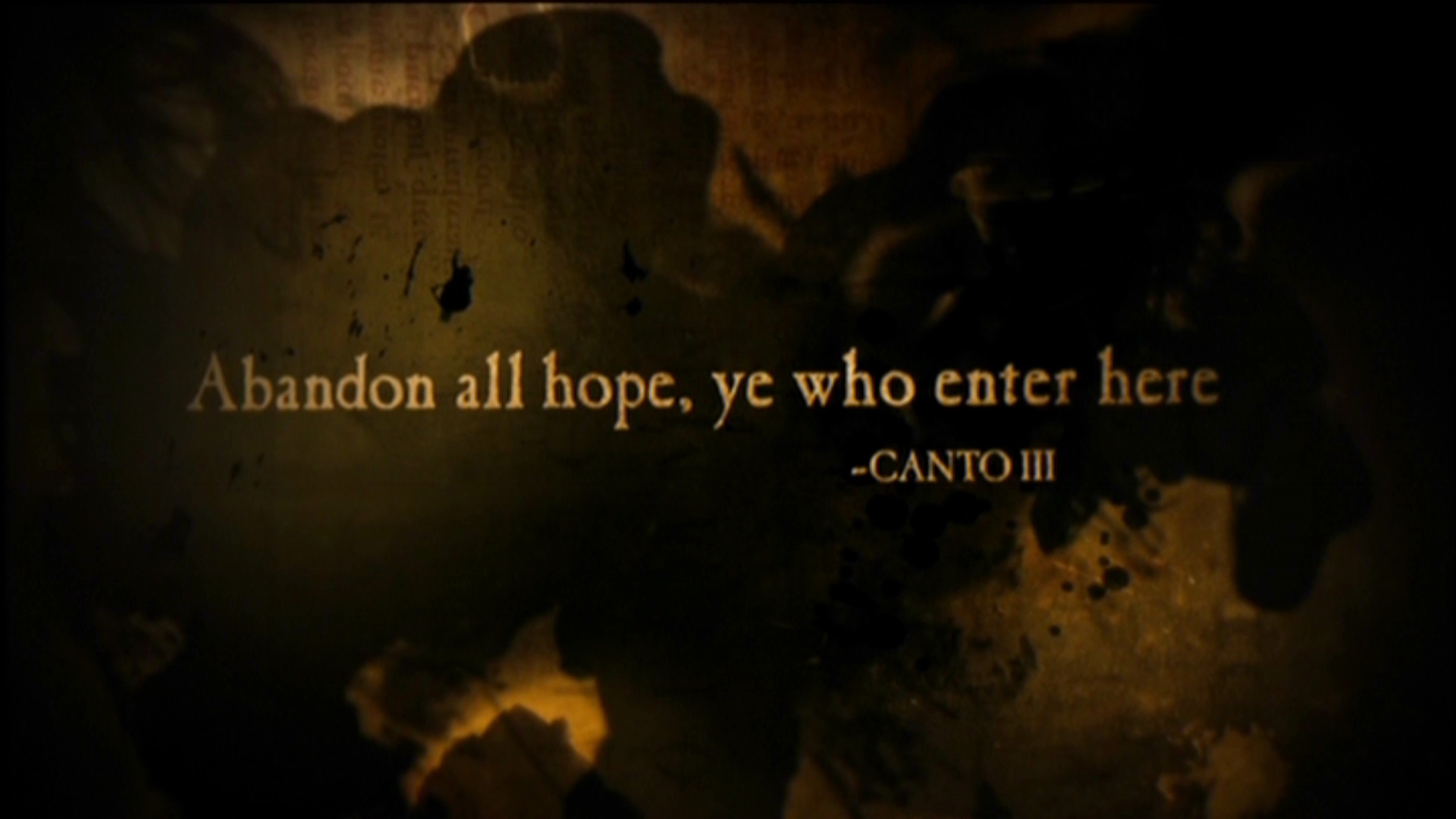 My apologies. I failed at the whole light reading thing. Care to discuss what level is appropriate for Hillary?
Eh, maybe on the next snow day.