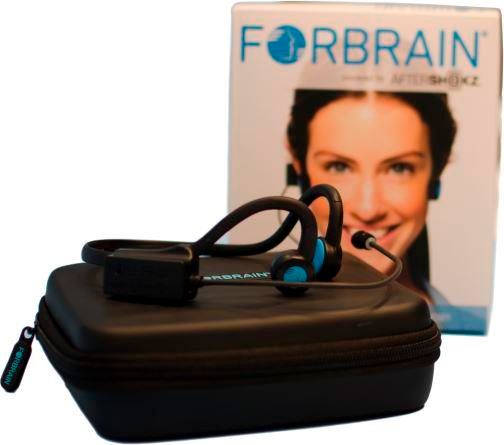 I was delighted to have an opportunity to review
Forbrain – Sound For Life LTD
and try out their
bone conduction headset
with my youngest daughter. I had read about the many benefits of this product, particularly for children with with sensory and auditory processing issues, so I was curious to see if it would be an effective learning aid for my 9 year-old. What I didn't expect was that my teen (16) would love it as well, and find it incredibly useful for her vocal training.
What is Forbrain?
Forbrain is a device designed to train your brain. If you or your child struggle with speech issues, ADHD, memory or auditory sensory processing, this device can help. By creating an auditory feedback loop, Forbrain helps you hear yourself more clearly, helping expand attention, clarify speech and aid in processing. This small headset can help improve reading fluency and speech for your child just by using it for a few minutes daily.
For this review, we received the following items:
1 FORBRAIN® unit
1 hard case
1 charging cable (USB to micro USB cable)
3 spare mic covers
1 User manual
1 quick start guide
2 year Warranty
Additionally, their website is full of great information to help you use the device correctly (according to the age of your child), including a section dedicated to
protocol and program suggestions
.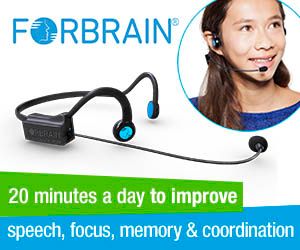 Our Experience with Forbrain:
My youngest daughter (9) has sensory processing issues, and she struggles with high sensitivity to sound. She used the Forbrain daily for 10 minutes per day. She would have worn it all day if I allowed her to, because she loves the clarity it gives her.
We used it during her daily reading lessons, and found that many sounds that were a struggle for her in the past were easier to hear and read (such as the "th" sound). This increased her confidence because she could tell when she was saying it right, rather than feeling unsure and hesitating, which often slowed down her reading. Some days she would wear it while we chatted or discussed a book we had read aloud together. Although her speech is not an issue requiring therapy, I did notice that immediately after putting on the headset her speech becomes much, much clearer. She absolutely loves using this product and is far more excited to complete her reading lessons while she is wearing it.
My 16 year-old daughter is a singer and decided to try the Forbrain during her vocal warm-up practice. She found that she was able to achieve perfect pitch on notes that were previously a struggle and that after consistent practice she was able to produce those sounds consistently without the help of the device. She doesn't want to train without the Forbrain!
I had to give it a try too, out of curiosity, and also because I would love to improve my memory. I felt more awake and attentive during and after use, and found that I retained what I was reading better than I normally would. Since I suffer from a foggy brain often, I really enjoy the clarity.
The Benefits of Forbrain (from their site, and in our experience):
Reading and Writing

Verbal or Short-term memory

Attention and Ability to stay on task

Concentration and Focus

Speech, Pronunciation, and Fluency

Motivation, Self-esteem, Self-confidence

Sharpen your senses
Take a look at this video explaining a little bit about how it works:
Overall, I think this is an amazing product, and my girls and I will continue to use it!
For more information, follow Forbrain on social media:
Facebook
Twitter
LinkedIn